A once unknown brand, Xiaomi has grown to be a smartphone giant in as little as 7 years (started 2010). Perhaps as a brand it became well known because Xiaomi offers high quality phones (that's not the only thing it sells) at rock-bottom prices. It takes an almost non-existent profit margin (usually around 1-2%), which is nothing, compared to its rivals. What exactly is their business model? Xiaomi sells high quality phones at almost zero profit, only to monetize its complementary services.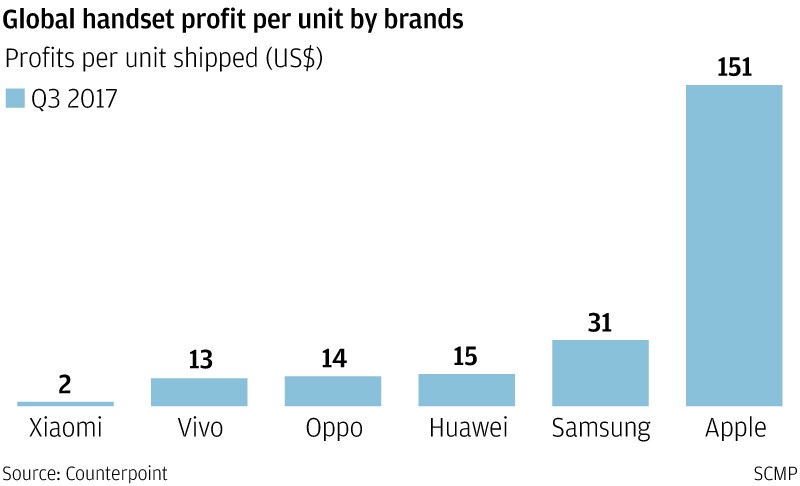 In 2016, Xiaomi took a beating as it stumbled upon supply problems, and burnt too much cash. Where it was once the most valuable startup, it quickly became a pariah. Pundits were already spelling the end for Xiaomi as we knew it. But it didn't go down. In fact, in 2017 it made a spectacular comeback. What happened?
Aggressive turnaround plans
Xiaomi embarked on an aggressive turnaround plan which laid out the following – improving technology, broadening distribution and going global.
It started designing its own processor, enabling it to reduce battery weight as well as its reliance on foreign makers. To broaden distribution, Xiaomi also launched into physical stores providing a seamless retail experience. Xiaomi also went big into smart household appliances and other smart gadgets. At one point, Xiaomi air purifiers became a top seller in China. Xiaomi also started to expand overseas aggressively especially into emerging markets.
The result?
Xiaomi now claims to be the third-biggest handset seller in Indonesia and fourth in Russia. It also controls huge chunks of the Indian market, at 31% market share (most recent estimates). Its plans have since paid off, so much so that it is dominating growth markets.
In Xiaomi's year-end gala night for 2017, CEO Lei Jun spoke about the company's resurgence in the smartphone industry and its amazing financials in 2017, which includes crossing the 100 Billion Chinese Yuan (approximately US$15 billion) revenue mark.
No signs of slowing down
There are no signs of slowing down on the hiring side, as Xiaomi continues to grow its headcount. Not everyone working in Xiaomi is on Linkedin – but you catch the drift. Still, it is fair to say that its team is considered pretty small (when looking at its rivals and compared to the annualized revenue the company brings in).
In addition, Xiaomi also recently slated to IPO in second half of 2018 – having appointed Morgan Stanley, Goldman Sachs and Citic as their bankers. The company could be valued at as much as $100 billion, hailed as the biggest tech IPO (since Alibaba). Lei Jun's substantial shares in Xiaomi would put him as the richest man in China, by some estimates.
What's next?
Xiaomi labels its business model as "tipping" which holds close similarities to the gaming industry's freemium model.
One of the most successful games out there – "Clash of Clans" is owned by Supercell (which in turn is owned by Softbank). The company has launched only a handful of games in total (all free-to-play with a freemium revenue model) but has in 2017 brought in revenues amounting to US$ 2 billion, and profits of US$800 million.
It is evident that freemium works – where users are free to play the game, but have to pay to upgrade their in-game experience.
So, where would Xiaomi's business model bring it? We think that Xiaomi could be the biggest name in the Internet of Things (IOT) industry – which it already is, without making it sound too obvious. As the appeal of digital goods continue to skyrocket, we fail to see the downside of this model, particularly because these services are very sticky. Do you often see anyone unsubscribe from these services? Probably NOT.
Pay for video content? Netflix. Pay for music? Spotify. Pay for cloud storage? Apple. These services are already out there. It just needs a home – and it could be one of Xiaomi's mobile phones or tech devices. The good part? Xiaomi already has its very own app store.
Another case in point – as technology in these gadgets advances faster than the typical need (i.e. who needs a 10GB RAM phone when 6GB RAM is sufficient for today's applications), the only way to differentiate would be through services. Also, with access to millions (potentially billions) of users, Xiaomi mobile devices makes for an effective advertising platform (which they already monetize).
Conclusion
What's next after the IPO? What's next after controlling (and dominating) the ecosystem will be the next step.
A single company cannot dominate everything. That is why Xiaomi (or rather its founder Lei Jun), through its venture arm Shunwei Capital is investing in an estimated 450 companies globally (including China). It also plans to invest in Indian startups to the tune of US$1 billion over the next couple of years. This will put Xiaomi ahead on every corner.
One thing's for sure, we think that Xiaomi could be the next Softbank. Its journey has been frought with ups and downs, but it clearly is winning and more importantly – investing in the future (just like Softbank).